Le Grand-Pré of LEVENS
This land is located along the M19, bordered by a beautiful avenue of plane trees, a few hundred meters before the entrance of the village, coming from Nice.

The "model aircraft" activity is regulated by a municipal decree ( 2008/03/03 ). This decree stipulates that to practice this activity, you must hold a FFAM license, for insurance reasons, and be a member of the Aeromodelism section of Levens (see the photo of the panel below). Membership in the MAC Nice includes registration at the Levens section.
---
Gasoline engines and very large appliances are prohibited..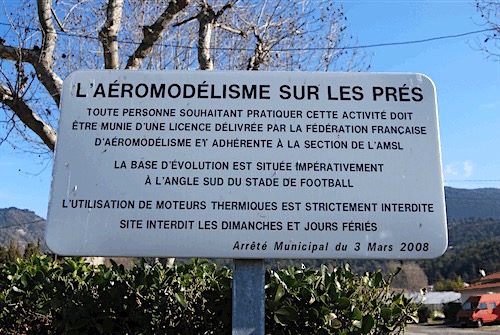 AEROMODELLING IN THE PRESENCE OF ANYONE WISHING TO CARRY OUT THIS ACTIVITY MUST BE PROVIDED WITH A LICENSE ISSUED BY THE FRENCH AEROMODELLING FEDERATION AND ADHERED TO THE A.M.S.L SECTION

THE BASIS FOR EVOLUTION IS IMPERATIVELY SITUATED TO THE SOUTH ANGLE OF FOOTBALL STAGE

THE USE OF THERMAL MOTORS IS STRICTLY PROHIBITED


SITE PROHIBITS THE SUNDAYS AND HOLY DAYS

Municipal Decree of March 3, 2008
---
You can come and fly your models every day of the week, except on Sundays, public holidays, or during important activities planned by the municipality (for example: garage sale, horse festival, etc .... ). For all information on these activities, you can go to the site of the municipality.
Out of respect for the residents, be careful not to fly before 9 am and not later than 8 pm.

We meet in the field every Saturday afternoon; come and see us, we will always welcome you with pleasure.

For our visitors, coming from other clubs, other regions, you can click on the link: Street view to view the place. Then, you can make your route by clicking on the rectangular blue image below that represents the GPS coordinates of the place.
This zone is referenced on the aeronautical charts by DGAC.

GPS position of the grand meadows of LEVENS